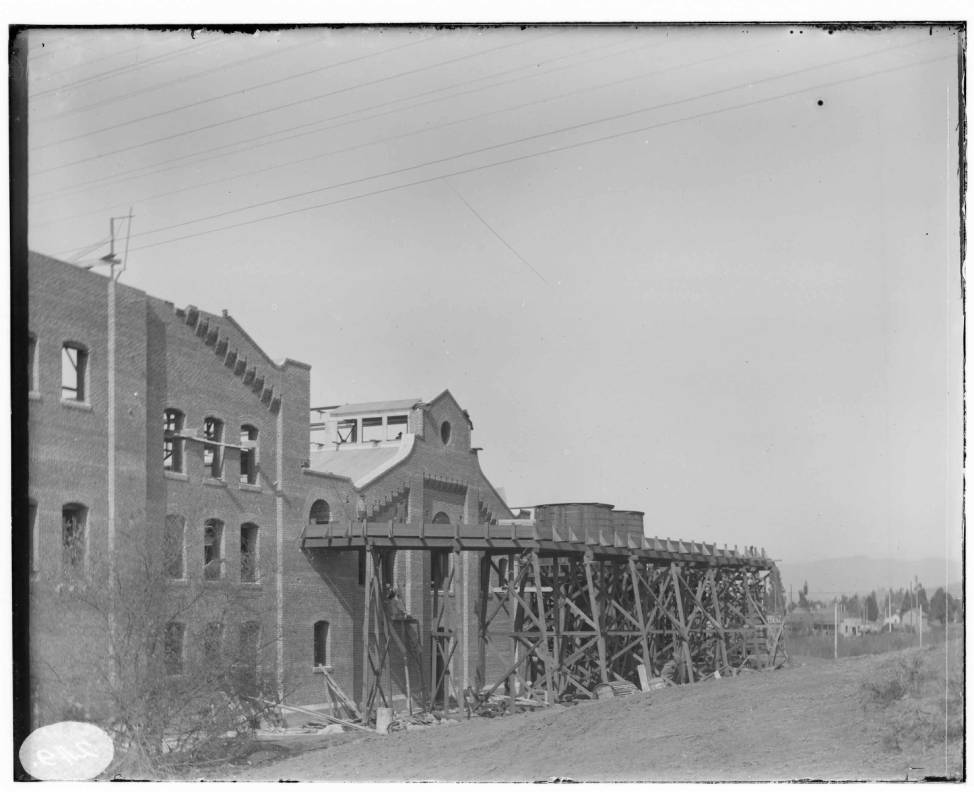 Before - 1904In the beginning, it was a steam powerhouse. Later, it was converted into various storage and working facilities. Then it became artist's lofts, hosting dozens of different visions, before finally, in 2014, it was renovated into "Stronghold Climbing Gym", home to a state-of-the-art facility that includes 42-foot climbing walls with hundreds of routes. The gym is also equipped with a 2,000-square-foot mezzanine with weights, cardio machines, and pull-up bars that overlooks the bouldering area. Yoga classes are also available to stretch out your climbing muscles. Plus, you can grab a brewski on your way out. 
Stronghold co-owners Katharine Mullen and Peter Steadman knew of the growing demand for indoor climbing resources in Southern California when they moved to L.A. from the East Coast. They then heard about the steam power plant building, an early work of architect John Parkinson that's part of the Brewery in Lincoln Heights, which in recent years had been used primarily as a film and television location.
The beautiful building housing the Stronghold started life in 1904 as the California Edison Company's Los Angeles #3 Steam Power Plant.  It was designed by John Parkinson, the architect responsible for many of LA's iconic structures from that era, including City Hall and Union Station.  The Stronghold occupies the space that originally housed a slew of boilers that generated steam that was piped next door to spin turbines that in turn spun generators that made DC electricity to make beer, power homes and run street lights in the then 25-year-old Lincoln Heights neighborhood.
The Stronghold sits within the 23-acre Brewery Arts Complex. The Brewery (as it is known) was started in the early '80s when a city law (called the Artist-in-Residence Ordinance) started allowing residential use of disused industrial buildings around Downtown on the condition that the residents be artists and use the space for working as well as living.  Since then the Brewery has developed into one of the most well-established and vibrant artists communities in the country.
Twice a year, the artists invite the public into their often remarkable studio/homes to view and purchase their art.  The Brewery Art Walk happens each Spring and Fall, and draws large crowds.  Art Walk is a great opportunity to check out some of the most creative work in L.A. and buy art.

Also note that if you need creative input on a project, Brewery artists have a immense pool of talent to draw from.  Residents do illustration, set design and construction, art direction, interior design, graphic design, architecture, commercial photography and 3D filming, and much, much more.  A community website allows you to inquire about hiring a Brewery artist to help realize your next creation. 

Also at the Brewery, and of particular interest to thirsty and hungry post-workout climbers, is Barbara's.  Only 400' from our front door, Barbara's is open Mon-Fri. 9:30 AM till midnight, Sat. 6 PM till midnight and on Sunday from 11 AM - 5 PM.